Professional sport is supposed to be an escape from banal everyday life. This activity, where the success or failure of a group of people decides a mass number of people's emotions. We as viewers grow to love and despise specific players for their exploits on their field of play. But sometimes this escapism is rocked to its core by life's inevitability: death. Through the following of these players, coaches and even writers, they gain a demi-god invincible status within our minds as if they could not succumb to something as simple as death. That means when they do suffer, it is all the more shocking. The deaths I am referring to specifically are those of former cricket player come writer Peter Roebuck and former football player come manager Gary Speed.
Peter Roebuck was quite frankly the cricket writer I loved to hate. While he wrote majestically, it was often an opinion, which I disagreed with greatly, yet I could never stop reading. Roebuck's writing style was direct and provocative therefore like any good writer he created extremely polarised opinions from readers. He loved to write about the controversial, calling for Ricky Ponting to be sacked after his poor sportsmanship during the Sydney test against India in 2008. In this piece he crafted beautiful sentences such as "Ponting has shown not the slightest interest in the well-being of the game, not the slightest sign of diplomatic skills, not a single mark of respect for his accomplished and widely admired opponents." It is sentences such as these that lead to the praise that "Roebuck was born to write about cricket, as Tendulkar was born to play it." This brilliant writing still didn't make me agree with him often as even recently I recall discussing with a friend how ridiculous I thought his article about John Wright becoming coach of Australia was.
Even beyond his brilliant writing, Roebuck was an accomplished player, playing more than six hundred games in county cricket, managing thirty eight hundreds and more than a hundred half centuries. Even though I never met Peter Roebuck, I was still overcome with sadness at the news of his passing. I will definitely miss muttering in disbelief at his latest opinion but with that I say goodbye to a man whom I had a million arguments but for which he knew of none. While Peter and I had differing opinions, we shared a love of cricket and writing about it, which will be sorely missed.
If it takes a good writer to divide opinions then it takes a fantastic player to unite opinions, even from the most bitter of rivals. Gary Speed was that fantastic player and man. He would be one of the few men to have played for Everton yet be loved by Liverpool, to have played for Leeds and still respected at Manchester United, to be Welsh yet completely adored by the English. Gary Speed was the enjoyable face of the Premier League upon retiring having the highest amount of appearances at 535. The consummate professional able to play left mid, centre mid and left back, always fit and raring to go managing to play until forty-one, which led to his team mates dubbing him "inspirational". Always enjoying leading from the front, he was an astute thinker, which led to him becoming manager of the Welsh football team. From being ranked 117
th
in the world, Speed through his excellent man management and pairing youth and experience (eg Aaron Ramsey as captain with the help of Craig Bellamy) he took Wales to 45
th
in the world. His death was extremely unexpected but the outpouring of grief displays the greatness of the man. Tributes from the Prime Minister David Cameron as well as a potential to postpone the Aston Villa Swansea game due to sadness indicate the importance to so many, of Gary Speed.
Sadly football lost someone who was a model professional and a fantastic ambassador for the game but he will not soon be forgotten.
What is the connection between these two men? Both were great professionals who were extremely passionate about the game they played but unfortunately both men took their own lives. Peter Roebuck's suicide was due to fear of allegations while Speed's was extremely surprising and most likely due to depression. Many people see this as a coward's way out of life, yet I think that both of these men deserve far better than to have their fantastic reputations sullied by their last acts. Instead let us remember two fantastic men who were great characters of their sports and who will be sorely missed.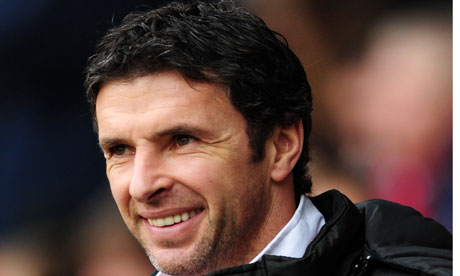 Rest In Peace Peter Roebuck and Gary Speed