The 2015 Cricket World Cup comes to a close on Sunday night, when the beautiful Black Caps take on those awful Aussies. I've loved this Cricket World Cup since it started, however before it did, I was a little apprehensive. I failed to grasp how momentous it was to have such an event in my country. One that I had watched on television since before I could remember. Luckily, my friends organised a group to go to the New Zealand Australia game and my lovely Mother purchased me a Semi-Final ticket for Christmas. Those games are two of the greatest sporting memories that I have. Both games that caused elation, nerves and me straining my vocal chords. The last time I hurt my voice because of New Zealand Cricket would be swearing at the demise in another test. I would consider myself to be a quiet sports watcher, but those two games saw me yelling, jumping and fist pumping. When Kane Williamson deposited Pat Cummins for six, I lost my mind and jumped and yelled with everyone else in the stadium and it was beautiful. Even crazier was when Trent Boult bowled Hashim Amla. I found myself on my feet, fists clenched and pumping with a howl climbing out of my throat like I have never heard before. It was two-fold when Grant Elliott hit that winning six. There I was hugging and hi-fiving strangers as the Black Caps overcame their Semi-Final hoodoo and reached their first final.
Grown men hugging. Everywhere.
I was not alone in this jubilation. With the Black Caps winning every game and reaching the final, it's no wonder that everyone has hopped on the bandwagon in hopes of victory. Does this make me bitter? Kind of. I've followed the rollercoaster of New Zealand Cricket since I was a small child. I would say that I have seen more losses than victories and now all of a sudden we win eight games and everyone's a fan? Part of me wants to say no. That you have to earn your stripes watching us get bowled out for under 100 in a test match against South Africa in the middle of the night to enjoy these giddy highs. Then the more logical side of me says that this is amazing. The whole country is talking about the game you love. Kids want to grow up to be the next Brendon McCullum or Trent Boult. Heck, maybe I'll even be able to convince some people to watch a test and sell it on the grounds of it being like five times as good (or just five times as long) as an ODI. However, I urge everyone who has taken a sudden interest in the Black Caps to not allow it to be fleeting. Your support for them should not end on Monday morning because they do this kind of thing all the time and they deserve to be followed and supported, even when they aren't winning.
After Sunday too, Okay? Sweet. Deal.
Do I think the Black Caps will win the final?
No is the short answer, but god, I hope they do. Unfortunately, I've seen too much. The Black Caps have been in two limited overs finals before. Both in the Champions Trophy, which is like the Commonwealth Games of cricket. In 2000, we won when my then hero, Chris Cairns scored an inspired century as we overcame India. In 2009, we made the final again against Australia and batting first we only scored 200, which Australia chased down, winning by six wickets. Now, this isn't that surprising. Australia have often been the final frontier for the Black Caps, especially so in Australia. In 56 games in Australia, New Zealand has only won 18. Take that to the MCG where the final is, New Zealand has only won 4 out of 14. Although, in saying that, we won our most recent ODI against Australia there, all the way back in 2009 when a certain Grant Elliott scored 61. Yet, with a winning percentage of 31% in ODIs in Australia, I'm not that confident. But, as Brendon McCullum says, I should really dare to dream. These aren't the Black Caps that I grew up watching, demonstrated by what will be the team for the final.
You're a dick, Watto.
Despite our storied past, Brendon McCullum is downright destructive with the bat and is the ballsiest and most of aggressive captain going in world cricket.
Anyone who does this to a projectile being fired at them at 150km/ph has balls.
Martin Guptill does more with two toes on one foot than the rest of us do with five, whether it be insane catches or being the first white man to score an ODI double century.
I always knew that my toes were stopping my sporting ability.
Kane 'Steady The Ship' Williamson is the best batsman I have ever seen for New Zealand, with poise, confidence and technique, he is due for a big one in the final.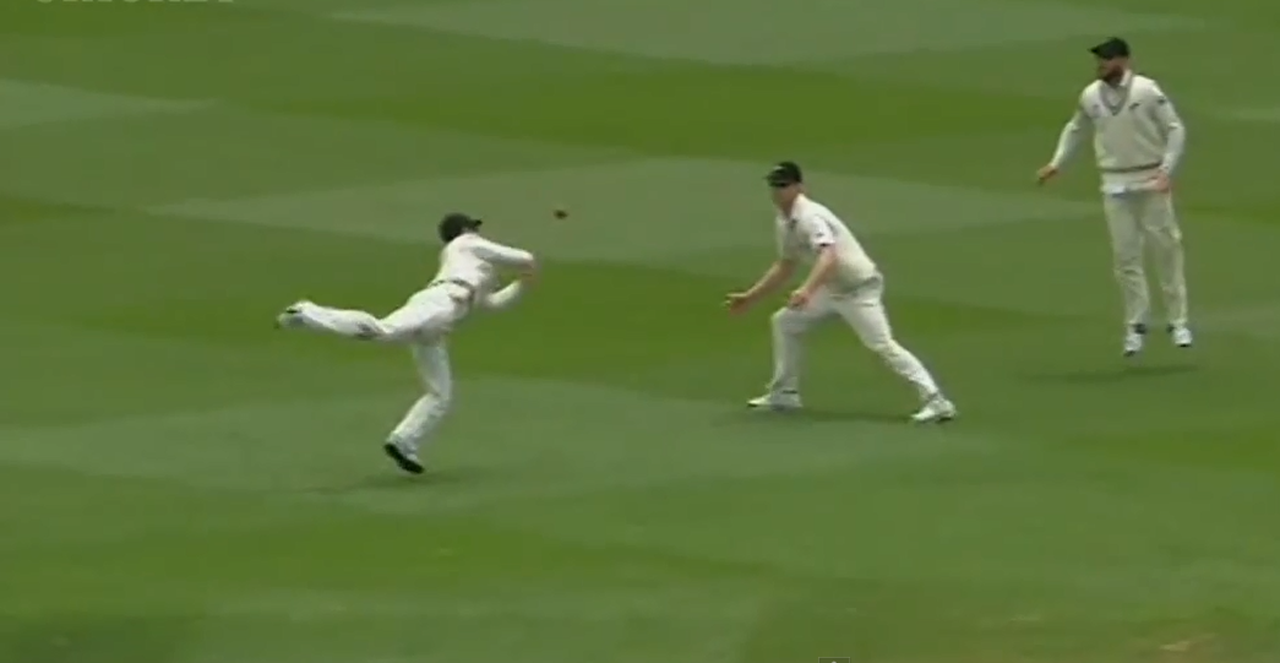 He also catches cricket balls like this.
Ross Taylor might be "out of form" (he is averaging close to 50 in ODIs in the past year), but he has a lot of talent and experience for the big stage.
This dude is an obvious winner.
I doubted Grant Elliott's inclusion before this World Cup. Did he care? Hell no. He proved me and many others wrong as I stood and chanted his name in that Semi-Final. He's an experienced, composed battler, who has seen and done it before against Australia.
He's a pretty awesome dude too.
Corey Anderson is a big brute, who can smash a century off 36 balls and back it up with the third best bowling strike rate in ODI history.
He's also pretty dreamy.
Luke Ronchi was once an Aussie, but he's a definite Kiwi now. His experience of playing agianst the Australian teams and on the MCG will be invaluble down the order.
He was just a sleeper agent, right? Yeah, let's go with that.
Dan 'the man' Vettori is the man, full stop. It's hard to describe him better than that. Our once captain-coach-selector-saviour in the dark ages is coming to the end of his career.I doubted his inclusion in the squad, but he's been the best spinner in the tournament, chipped in some handy runs (including the best boundary to third man in New Zealand history) and of course that catch. If this is his final stage, we owe to him to go out as the champion that he is.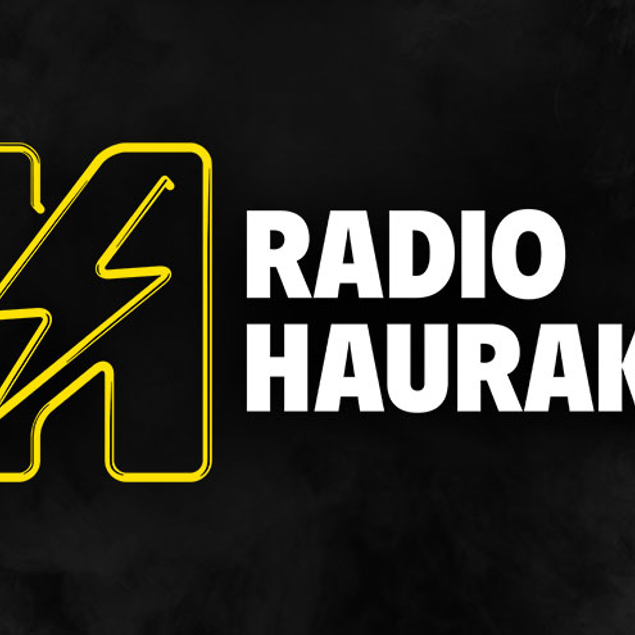 Dan's my fave.
Matt Henry is a late addition to the team, but in a short ODI career, he averages under 20 with the ball and has one five wicket haul to go with two four wicket hauls. His pace and accuracy will be key in the final.
He's new, but he's good.
Tim Southee is great. His bowling in tandem with Trent Boult has been beautiful. Accuracy and swing will test the Aussies and he definitely has the ability to clear any boundary even the boundaries that go as far as the moon that the MCG holds, according to a certain Mr. Hayden.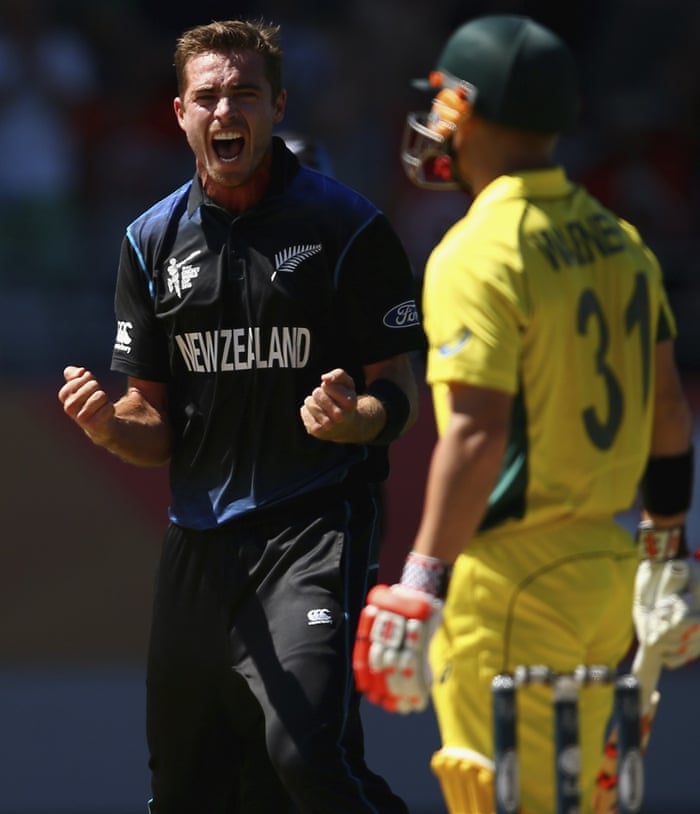 Piss off, you're out.
Trent Boult is just amazing. The Black Caps haven't had a bowler of his calibre since Shane Bond in his prime. The effortless, glide to the crease before the swinging, pinpoint accuracy at pace has already accounted for 21 victims in this World Cup making it the most a Kiwi has ever taken in a single World Cup tournament. Plus, he has a strange resemblance to Adam Scott, which makes me love him more.
I think it's the small mouth.
So while my head says the Black Caps will lose, my heart says they will win. Everything so far has been fairytale. I know this Australian team is good. They bat deep and their bowling attack is fast and fearsome. But, if you see the way the Australians behave with their sledging and snarling compared to the hard, but fair play of New Zealand, it's obvious who the good guys are. We deserve this. Even if they don't win, I'll still be damn proud of this team. They have played and acted like gracious champions, so in my mind they are already winners.However, the rest of the world doesn't see it that way, so keep backing the Blackcaps and let's dare to dream.